Testimonials - Technical Officers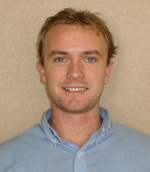 Craig Francis Technical Officer, Port Lincoln, Transport Services Division
(Technical Officer)
I completed a 2 year Diploma of Civil Engineering at Panorama TAFE in 2004. While studying at TAFE I also worked as a drafter for a structural engineer, a survey chainman/drafter at a survey company and assisted in technical and safety inspections of rural aerodromes.
I applied for a position in the department as part of the Technical Officer Development Scheme after a promotional visit to TAFE. After successfully applying to enter the Scheme, I began work in January 2005 as a Technical Officer in the Survey Section. Later in 2005 I worked briefly in the Road Design section of Contracts and Standards before winning a permanent position in the Operations Unit at the Port Lincoln office. I stayed in this role for almost 18 months before winning my current position in Northern and Western Region Projects Unit.
One of my most satisfying aspects of my career so far with the department has been the opportunity to apply for and winning promotional positions. In my current role I enjoy the variety that the job offers. With such a range of different tasks, I am always doing something new and sharing my time between the office and on site work. I appreciate the amount of responsibility that I have, the challenges that come with it, and the fact that there is always somewhere to go for assistance when you need it.
I have enjoyed the challenges and learning opportunities of all my roles in the department and I still learn something new every day. Working in the department, particularly the Northern and Western Region, has helped me gain valuable skills and technical knowledge along with many contacts in the industry. There are great opportunities available within the department and I have always been supported to further my career and knowledge through internal courses and external study. I am currently completing a Bachelor of Civil Engineering with the University of Southern Queensland.