Main North Road/Dalkeith Road Intersection Upgrade
The recently completed $7.9 million Main North Road intersection with Dalkeith Road and Smith Road upgrade project will improve safety at the intersection for all road users.
Project works included:
Service relocations
Installation of traffic lights enabling controlled right turns in all directions
Installation of left-turn slip lanes on Main North Road
Installation of bicycle lanes
Signalised pedestrian crossings
New road lighting
New road pavement
In addition to the completed intersection upgrade, the department installed a new u-turn facility (in the south-bound lane of Main North Road) approximately 300 metres north of the Dalkeith Road and Smith Road intersection.
---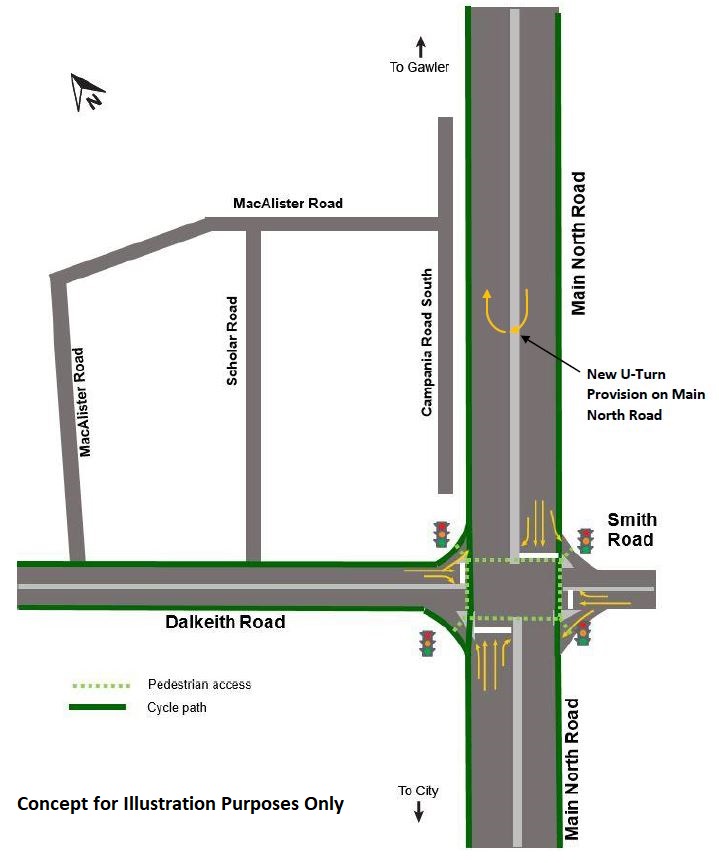 ---
DIT COVID-19 Response
The Department will continue to tailor community engagement opportunities in line with the latest COVID-19 advice from health authorities.
Face-to-face engagement opportunities may be restricted and we will continue to be guided by the advice of health authorities, with the health and safety of our stakeholders always our highest priority.
Engagement with community and industry is crucial and we will facilitate information sessions as much as possible to enable face to face engagement. It is important to assist in managing these events that you register as requested to enable physical distancing as much as possible.
We encourage the community to register for email updates.
---
Contact Us
If you have any questions or would like to speak to a member of the project team, please call 1300 794 880 or email dpti.communityrelations@sa.gov.au