Transverse Line Marking - Cudlee Creek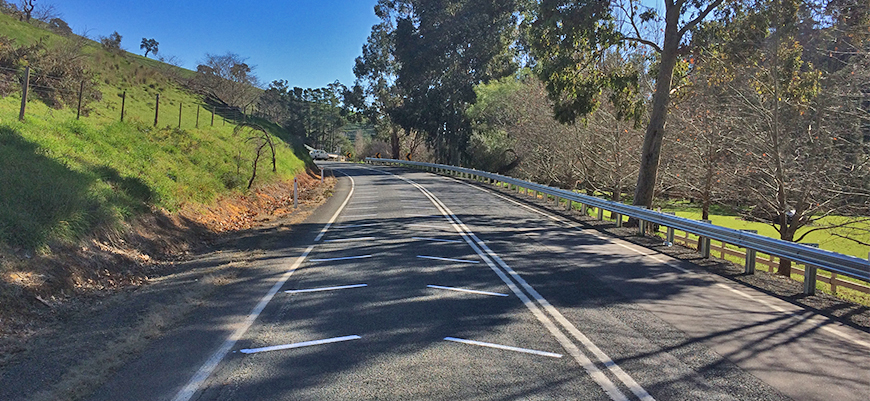 New Line Marking to Improve Safety on Cudlee Creek Road at the Fox Creek Road Junction, Cudlee Creek
The Department of Infrastructure and Transport (DIT) is committed to reducing serious casualty crashes on South Australian roads under South Australia's Road Safety Strategy 2020 – Towards Zero Together.
Cudlee Creek Road, at the Fox Creek Road junction, has a history of casualty crashes, as a result of vehicles turning right from Fox Creek Road into Cudlee Creek Road.
On a trial basis, with the objective of reducing the speed of westbound vehicles approaching the junction, DIT will install white transverse line markings on the carriageway. This aims to allow motorists on Cudlee Creek Road more time to react to any vehicle attempting to turn right from Fox Creek Road.
The transverse line markings will consist of a series of diagonal parallel painted lines extending from both sides of the travel lane for 1 metre towards the centre of the lane on a 60 degree angle. The lines will be painted on the Cudlee Creek Road westbound carriageway, commencing 150 metres before the Fox Creek Road junction and extending for 100 metres in length. Skid resistant paint will be used on these line markings.
The concept of transverse line markings originated in New Zealand, where research and trials on improving their effectiveness in reducing traffic speeds, is ongoing. This is the first trial in South Australia and it will be monitored to assess its effectiveness.
For real time road works visit: traffic.sa.gov.au
DIT thanks road users for their patience and understanding throughout this project.
Transverse Linemarking - Cudlee Creek Road Attachment (PDF - 50 KB)
Latest News
To help safeguard the DIT project team and the community, we have implemented measures to manage the risks of, and our response to, contracting COVID-19.
These include but are not limited to, increased personal hygiene practices and limiting face-to-face contact.
The project team will provide construction updates and work notifications via social media, letterbox drops, emails and the Project website. We are also available to speak via telephone (1300 794 880).
There will be no planned community events or information sessions until further notice.