Employment and Industry Participation
---
Lendlease has formed a partnership with a number of local Industry Partners for the delivery of the Northern Connector, including Catcon, McMahon Services, Intract, LR&M Constructions and SEM Civil to maximise the opportunities available for South Australian, and Northern-Adelaide based businesses.
The project will focus on delivering local participation including:
Creating 480 full-time equivalent jobs each year during construction.

At least 50% of all jobs to be filled by northern suburbs residents.


At least 90% of all on-site labour hours to be undertaken by South Australians.

At least 20 % of all on-site labour hours to be undertaken by ex-automotive industry workers, Aboriginal people, people facing barriers to employment and trainees and apprentices.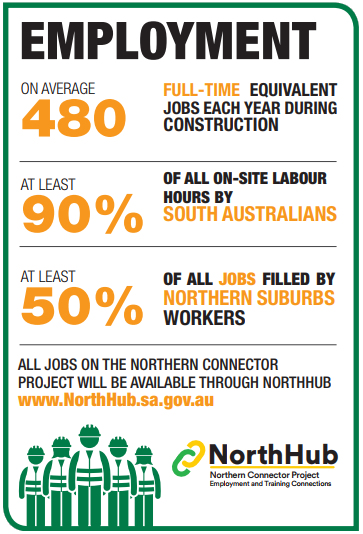 ---
Employment
---
NorthHub centre for employment

NorthHub was established by major contractor Lendlease for connecting job seekers with employment opportunities on the Northern Connector Project. It is a one-stop shop for vocational education and training, and service providers to meet with Industry Partners, subcontractors and workers.
The NorthHub employment and training centre was officially opened on Tuesday 4 October 2016.
To keep job seekers connected with the Project, NorthHub is located at the Site Office at Waterloo Corner. For more information about employment opportunities on the project, contact the NorthHub Team directly:
Phone: 1300 731 071
Email: NorthHub@lendlease.com
Visit: NorthHub Office at 1277-1291 Port Wakefield Road, Waterloo Corner, Monday to Friday 10am to 4pm
Industry participation
---
Tendering for work on the Northern Connector Project
The Northern Connector project will set a new benchmark for local industry participation on public infrastructure projects in South Australia.
The aim is to maximise the economic benefit generated by the project, employing as many South Australians as possible on the project as throughout the supply chain.
All packages of work for the Northern Connector Project with Lendlease will be listed on the Industry Capability Network (ICN) Gateway. Industry Partners will release their own packages of work directly to the market. Lendlease will provide details of registered businesses from the ICN Gateway to all of the Industry Partners for their consideration.
For more information please email: procurementncp@lendlease.com
---