Cross Road Pavement Rehabilitation
---
Commencement of night works
The Department for Infrastructure and Transport (the Department) is undertaking major pavement rehabilitation works on Cross Road between Hexham Avenue (just east of Fullarton Road) and Glen Osmond Road. This project is funded by the South Australian Government under the Metro Road Stimulus Program.
The works involve removing existing pavement and replacing it with new asphalt to ensure the long term safety and integrity of Cross Road for all road users.
Times of works
To safely facilitate the works and minimise impact to road users the majority of works will be undertaken at night from Sunday to Friday, between 8pm and 6am.
Works are scheduled to commence from Sunday, 31 October 2021, with completion expected early December 2021, weather permitting.
What to expect – changed traffic conditions
The works will be undertaken in stages and will move progressively along Cross Road between Hexham Avenue and Glen Osmond Road.
To safely facilitate these works, during working hours speed and lane restrictions and some detours will be in place:
Eastbound travel on Cross Road, between Hexham Avenue and Glen Osmond Road, will be closed with a detour via Fullarton Road.
Westbound travel on Cross Road will be available at all times during works.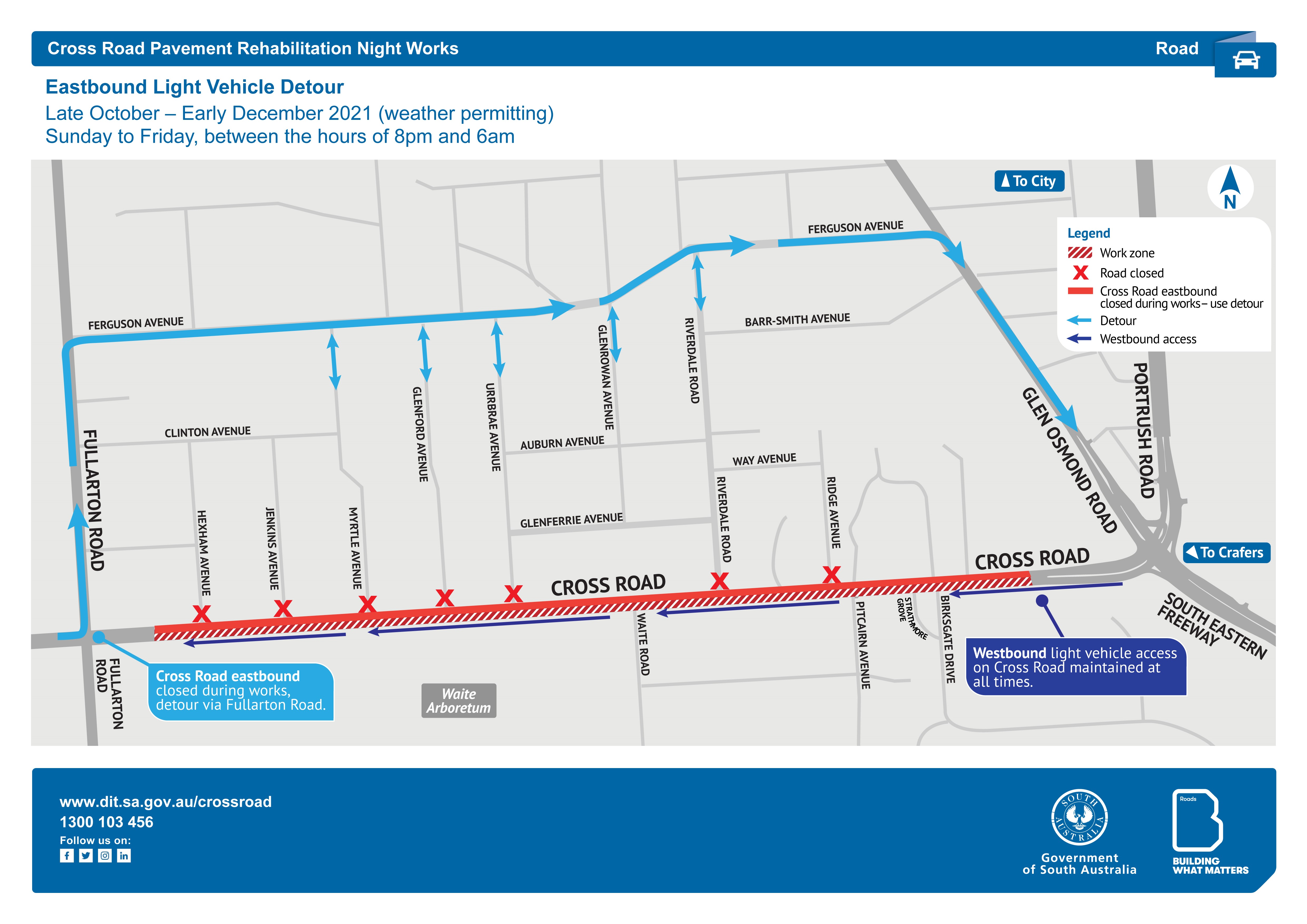 Two-way travel on Cross Road will be reinstated each morning. Speed restrictions will apply outside of working hours for eastbound and westbound travel on Cross Road. Motorists should expect delays, so please plan ahead and allow additional travel time.
Access to some side streets off Cross Road within the work area will also be temporarily restricted as required. Temporary local detours will be in place. Please follow the directions of on-site traffic controllers and observe traffic signage when travelling through the area.
Access to properties will be maintained throughout the works wherever possible. Some short-term driveway access restrictions will be required as the work moves along Cross Road. The project team will contact Cross Road property owners in advance of any temporary impact to driveways to ensure suitable arrangements are in place.
Some noise disturbance can be expected at times while these works are completed, however the work will be managed to minimise disturbance to nearby residents and businesses as much as practically possible.
Pedestrians and cyclists are advised to take care when travelling through the area. For safety reasons there may be some restricted access. Where required, signage will be in place to direct pedestrians and cyclists to alternative access and/or detours. Every effort will be made to minimise impacts to the community.
Important information for heavy vehicles
During the works, eastbound heavy vehicles 23 metres or more in length will be required to detour via South Road, Richmond Road, Greenhill Road and either Glen Osmond Road or Portrush Road. Eastbound heavy vehicles less than 23 metres in length will be required to detour via Fullarton Road, Wattle Street and Glen Osmond Road. Outside of working hours heavy vehicle access will not be impacted.
See detour map.
The Department appreciates your patience and cooperation whilst these important works are undertaken.
Other work in the area
In addition to this work, pavement rehabilitation works at the South Eastern Freeway, Portrush Road, Cross Road and Glen Osmond Road intersection are expected to commence in late 2021 and be completed in early 2022. Further information regarding these works will be provided closer to the works commencing.
The Australian and South Australian governments have also jointly (50:50) committed $61 million to upgrade the Cross Road and Fullarton Road intersection. Once complete, the upgrade will improve travel times and road safety, increase intersection capacity and enhance network reliability. Early works at this location have commenced, with major works expected to start from late 2021. Visit www.dit.sa.gov.au/fullarton for further details.
Further information
For details of upcoming works see the SA Infrastructure and Transport Facebook page.
For more information on the project, or to register for project updates, please contact the project team via the details below: