Fitzroy Terrace Bicycle and Pedestrian Actuated (push button) Crossing Project
About the project
The Department for Infrastructure and Transport will be upgrading the existing crossing on Fitzroy Terrace by installing a signalised Bicycle and Pedestrian Actuated (push button) Crossing (BPAC). This upgrade will improve safety and connectivity for people walking and riding on the Prospect Bikeway between Braund Road and the Adelaide Park Lands.
Arterial roads can form a barrier for bike routes and discourage people from using active transport modes. Signalising the existing walkthrough will enable more people to easily ride or walk between the City of Prospect and the Adelaide CBD. See concept image below.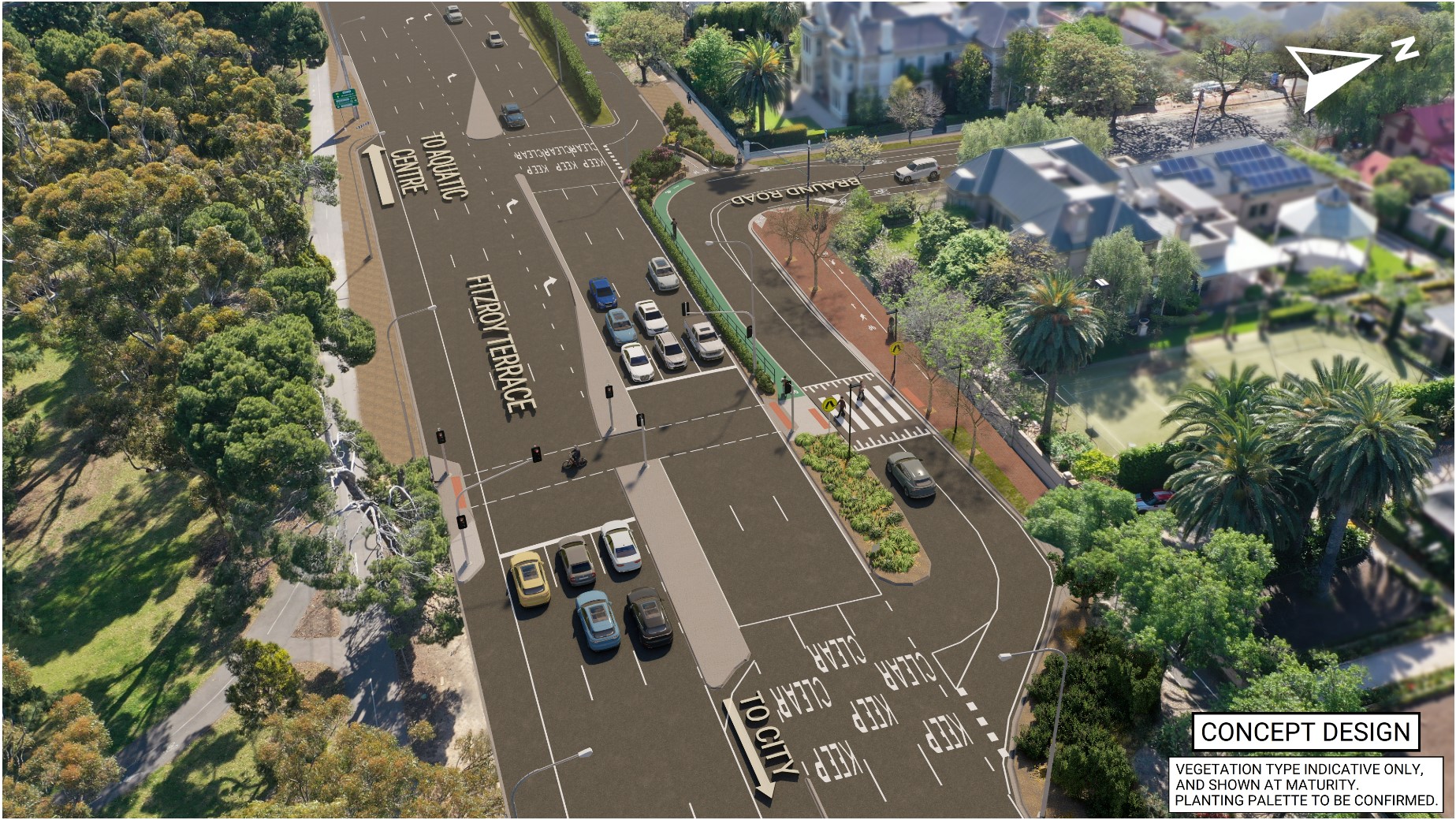 Braund Road is a suburban collector road and a strategic cycling route connecting into the North-South Bikeway within the City of Adelaide. The project builds on investment in the route including Local Area Traffic Calming in the form of raised intersection platforms at Le Hunte Avenue, Gladstone Road and Olive Street, Prospect. The project also improves connectivity for local residents to the Adelaide Park Lands and the Adelaide Aquatic Centre.
The project does not change any of the existing motor vehicle access into/out of Braund Road or the Fitzroy Terrace service roads.
---
Project update
Construction work for the installation of the BPAC is currently on hold while the Department works collaboratively with the City of Prospect regarding landscaping, including the planting palate, and to work through elements of the design in line with community feedback.
If you have any questions or would like to speak to a member of the project team, please call 1300 794 880 or email dit.communityrelations@sa.gov.au
The Department appreciates your cooperation and patience during this time.
---
COVID-19 Response
---
The Department will continue to tailor community engagement opportunities in line with the latest COVID-19 advice from health authorities.
Face-to-face engagement opportunities may be restricted and we will continue to be guided by the advice of health authorities, with the health and safety of our stakeholders always our highest priority.
The project team will provide construction updates and work notifications via social media, letterbox drops, emails and the Project website. We are also available to speak via telephone (1300 794 880).
We encourage the community to register for project updates.
Further information
To find out more about the project or register for future updates, please contact the project team at the following: