Glynburn Road Bicycle and Pedestrian Actuated (push button) Crossing Project
About the project
The Department for Infrastructure and Transport (the Department) is installing a Bicycle and Pedestrian Actuated (push button) Crossing (BPAC) on Glynburn Road, between Beulah Road and Cuthero Terrace, Kensington Park. This project will improve safety and connectivity for pedestrians and for cyclists on the Norwood to Magill Bikeway.
The project builds on recent investments to improve the Bikeway from Magill to the City and is funded by the South Australian Government as part of the Inner and Middle Adelaide Cycling Improvements Program.
Works for the project include:
installation of traffic signals to facilitate a controlled crossing with push buttons for pedestrian and cyclist movements;
footpath upgrades on both sides of Glynburn Road on the approaches to the BPAC; and
bicycle turning lane provisions on Beulah Road and Cuthero Terrace to improve access to the crossing.
Please see the concept design below.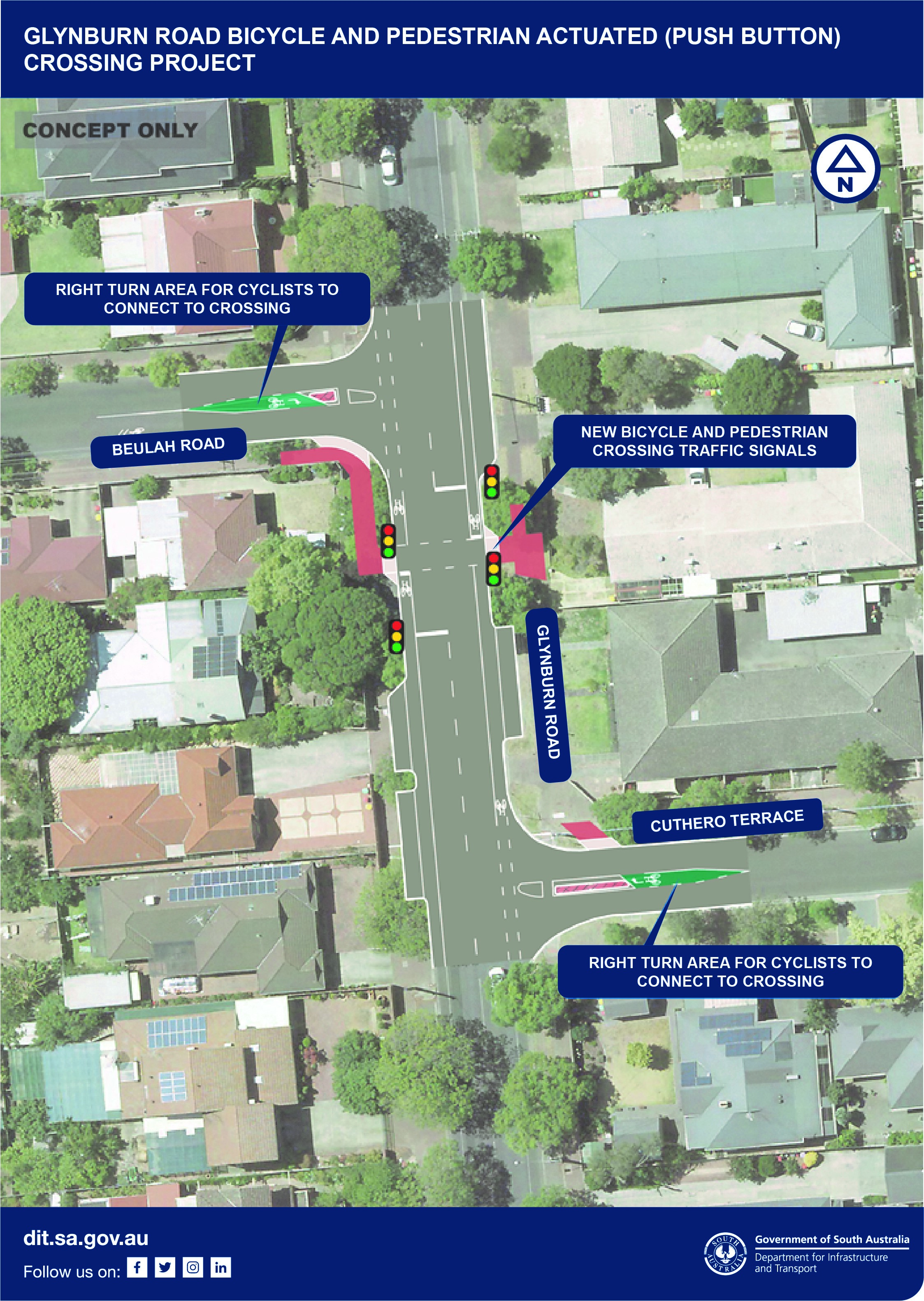 Project Timing
Construction works are expected to commence in the coming weeks and will take approximately eight weeks to complete, weather permitting.
Further information about the timing of works and the planned traffic management during construction will be provided in advance of works commencing.
---
COVID-19 Response
---
The Department will continue to tailor community engagement opportunities in line with the latest COVID-19 advice from health authorities.
Face-to-face engagement opportunities may be restricted and we will continue to be guided by the advice of health authorities, with the health and safety of our stakeholders always our highest priority.
The project team will provide construction updates and work notifications via social media, letterbox drops, emails and the Project website. We are also available to speak via telephone (1300 794 880).
We encourage the community to register for project updates.
Further information
To find out more about the project or register for future updates, please contact the project team at the following: