Karoonda Highway Upgrades
The Department for Infrastructure and Transport (the Department) is undertaking approximately 75 kilometres of upgrade works on the Karoonda Highway between Pichera Bore Road and the Murray Bridge Township.
This $10 million project is jointly funded (80:20) by the Australian and South Australian governments to deliver essential safety upgrades and improvements along the Karoonda Highway.
These works will include:
shoulder reconstruction and sealing;
curve widening;
road resurfacing; and
drainage extensions.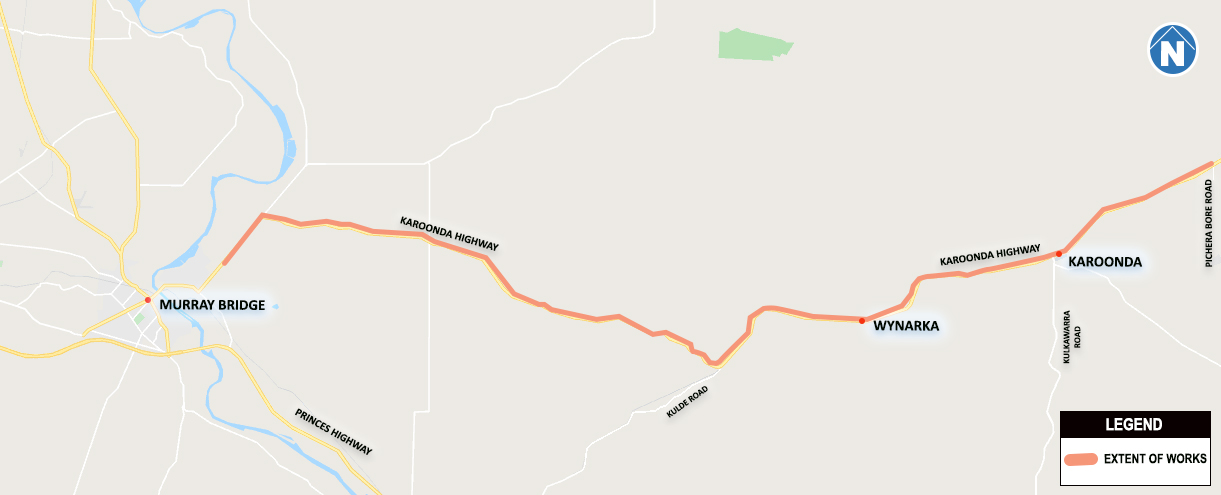 Project timing
Works commenced in January 2022, and are being undertaken from 6:30am to 5:30pm, seven days a week. Completion is expected in mid-2022, weather permitting.
Community Engagement
Community and industry engagement will form an important component across the life of the project. We look forward to keeping you up to date in the coming months about this project.
We encourage the community to register for email updates.
For more information please contact:
Email: DIT.communityrelations@sa.gov.au
Phone: 1300 794 880
COVID-19 Response
The Department will continue to tailor community engagement opportunities in line with the latest COVID-19 advice from health authorities.
Face-to-face engagement opportunities may be restricted and we will continue to be guided by the advice of health authorities, with the health and safety of our stakeholders always our highest priority.