Portrush and Magill Road Intersection Upgrade
About the project
The Australian and South Australian Governments have announced $98 million joint funding for the upgrade of the Magill and Portrush Roads intersection, with the cost shared equally. The upgrade is expected to support approximately 78 full time equivalent jobs per year, over the life of the project.
The Australian Government commitment is part of the Commonwealth Urban Congestion Fund. The State Government's contribution addresses recommendations of the State Government's Keeping Metro Traffic Moving Report. The report identifies this intersection as a priority location for treatments that address road congestion and keep traffic flowing
The intersection of Portrush Road and Magill Road is part of the National Land Transport Network and forms part of the Outer Ring Route, which is a major traffic route and freight route. Both Portrush and Magill Roads are also high frequency public transport corridors.
The upgrade will:
improve travel times
improve safety for all users
improve network reliability
improve economic productivity.
Early works commenced in June 2020, and major construction works commenced in April 2021. Project is expected to be open to traffic by late 2021 with project completion expected in early 2022, weather permitting.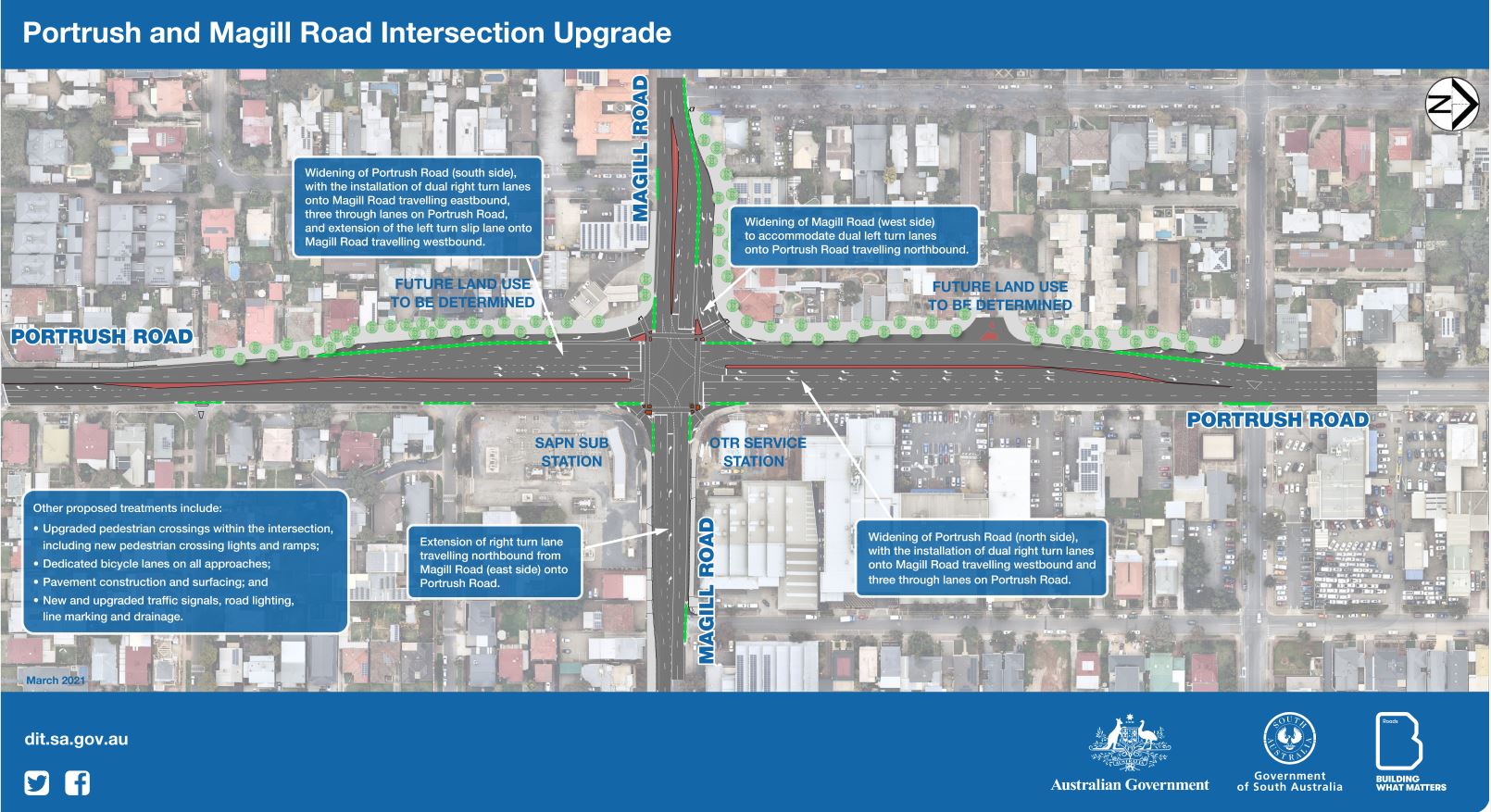 Please note, this is an artist's impression for illustrative purposes only. For further detail download a copy of the current plan.
COVID-19 Response
The Department will continue to tailor community engagement opportunities in line with the latest COVID-19 advice from health authorities.
Face-to-face engagement opportunities may be restricted and we will continue to be guided by the advice of health authorities, with the health and safety of our stakeholders always our highest priority.
Engagement with community and industry is crucial and we will facilitate information sessions as much as possible to enable face to face engagement. It is important to assist in managing these events that you register as requested to enable physical distancing as much as possible.
What's next?
Community and stakeholder consultation
Community and stakeholder consultation is important for the successful delivery of this project. As part of the project's early concept design and review process, DIT held two information sessions in February to meet members of the community and seek feedback.
Feedback on the draft concept design was also available until 18 March 2020.
All feedback received from the community is being reviewed and considered by the Project Team. Receiving feedback from the community is important and will continue to help inform the development of the design.
Major works commence
Major works commenced in early April 2021, with project completion expected in 2022.
The majority of the works will be undertaken Monday to Saturday, between 7am and 6pm.
Speed restrictions will be in place during the works, and lane restrictions will be implemented intermittently to maintain the safety of road users and workers. Night works will be required on several occasions during major construction (see below for upcoming night works).
Night works
Works recommenced in early January to construct new kerb and median islands and to install new road lighting, signal and storm water infrastructure in preparation for the final stage of asphalt and line marking.
The final stage of asphalt works and line marking at the intersection, and on all approaches to the intersection, are expected to commence Sunday, 30 January 2022. These asphalt works will take approximately three weeks to complete, weather permitting.
Hours of work are between 7pm and 6am, Sunday to Friday. No works will be undertaken on Saturday nights.
Planned traffic arrangements at night during the work:
* access along Portrush Road will be maintained in both directions via contraflow traffic control arrangements;
* there will be no access to Portrush Road from Magill Road (west of the intersection only) between Sunday, 6 February 2022 and Tuesday, 8 February 2022; and
* there will be no access to Portrush Road from Magill Road (east of the intersection only) between Wednesday, 9 February 2022 and Friday, 11 February 2022.
Some noise disturbance can be expected at times while these works are completed, however the work will be managed to minimise disturbance as much as practically possible.
For further information regarding these works and to view the detour maps, download a copy of the Night works notification
An updated intersection concept plan, which also shows the proposed vegetation and landscaping for the project, is now available to download here.
Noise Assessment and Security
A noise assessment was undertaken during the detailed design phase of the project in accordance with DIT's Noise Traffic Guidelines https://www.dit.sa.gov.au/standards/environment and consideration has been given to the use of treatments for noise sensitive properties. Noise from construction activities will be managed through a Construction Environmental Management Plan which will establish the mitigation measures and consultation requirements for different construction activities. The security of adjoining properties during demolition of buildings and structure, during construction and on completion of the project will also be addressed.
The Department is continuing to liaise with the community as the project is delivered. All feedback is important and will continue to help inform the refinement of the design and the roll out of construction. The Department will continue to liaise with the community during construction. All feedback and concerns will be considered as the project team continue to identify outcomes that deliver on the project's objectives, whilst balancing the needs of the various stakeholders, as much as practically possible.
Notifications
Night works asphalt notification - January 2022
Night works and partial closure - November 2021
Major works commence - April 2021
Access change at Thornbury Street - April 2021
Vegetation Fact Sheet - September 2020
Night Works Notification - August 2020
Early Works Notification - June 2020
Portrush Road Intersection with Magill Road Upgrade Notification
Further information
If you have any further enquiries or would like to register your interest in the project to receive updates, please:
telephone 1300 794 880
write to GPO Box 1533, Adelaide SA 5001.