Truro Bypass Project
The Australian and South Australian governments have committed $202 million (80:20) to fund the design and construction of a bypass at Truro which will divert heavy traffic along the Sturt Highway out of Truro's main street, improving safety and amenity, as well as freight efficiency. The Department for Infrastructure and Transport is currently in the early design stage of the project.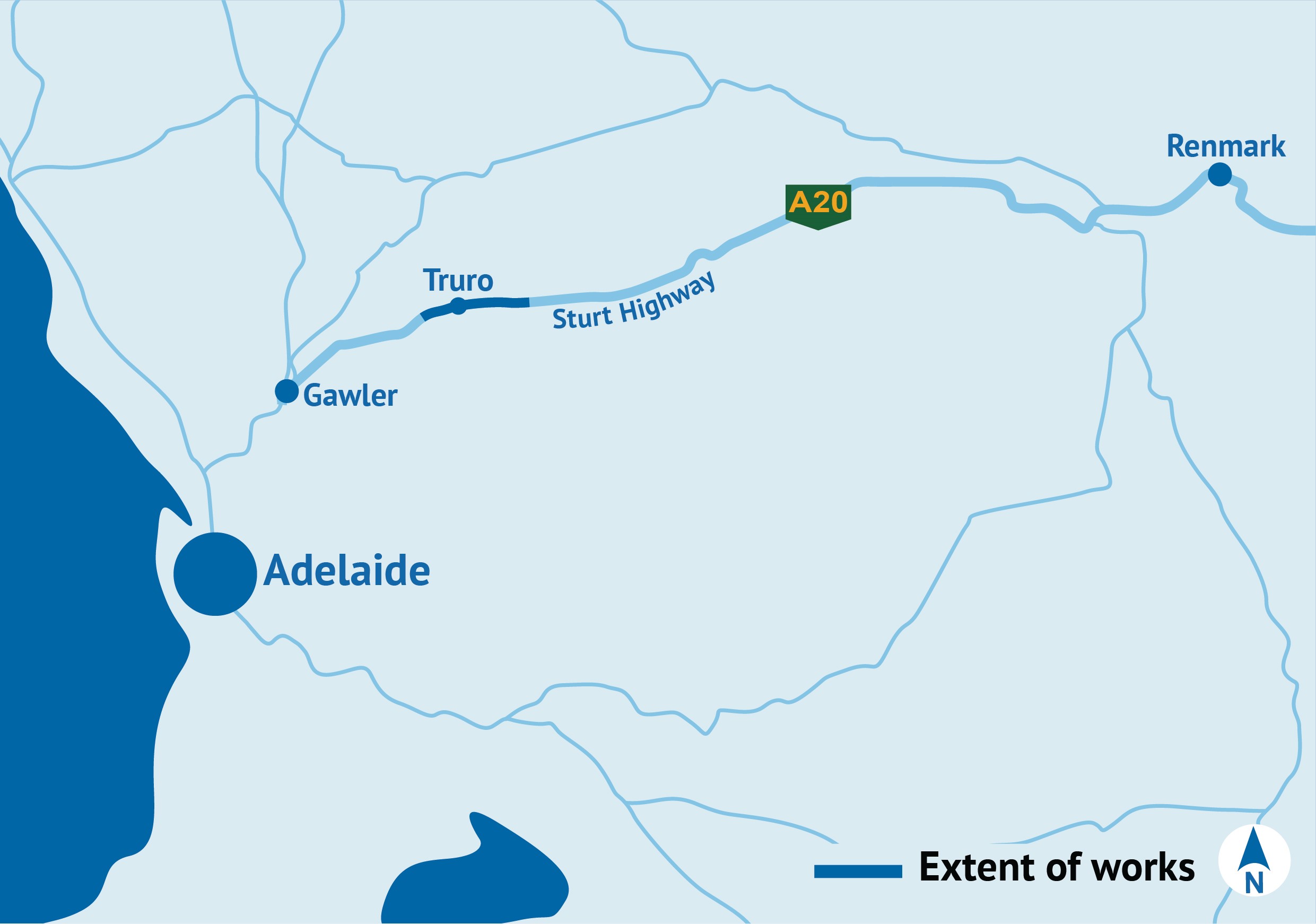 ---
Concept Design
A concept design for the Truro Bypass alignment has been released for public consultation, as planning progresses on a solution to improve road safety, boost freight productivity and get 600 B-Doubles and road trains off Truro's main street each day.
The indicative alignment, developed as part of the early design phase of the project, diverts the Sturt Highway to just north of the Truro township and across Accommodation Hill.
The final bypass alignment has not been decided. Site investigations and consultation with the community will be carried out first to inform the design. The final bypass alignment is expected to be announced in early 2022.

Construction of the Truro Bypass is expected to commence in early 2023 and be completed by 2025.
---
Next Steps
Investigation activities including environmental and engineering surveys and geotechnical investigations are currently occurring. This will help us build a comprehensive picture of the area and ensure the relevant technical information is taken into consideration. The locations selected for the ground investigation and engineering survey works do not necessarily correspond to areas that will be impacted by the project in the final design.
---
Community Engagement
Community engagement will commence in October, with opportunities to provide feedback to help inform the design. It will also be an opportunity for the community to share ideas on opportunities to enhance the Truro township.
You can provide your feedback by:
Attending a community information session
Completing an on line feedback form
Contacting the project team directly
Community Information Sessions
Please register for one of the available timeslots and drop in any time during that session.
Time slots available: from 4pm-5:30pm and 5:30pm-7pm (registration required)
Wednesday, 13 October 2021
Time slots available: from 10am-11:30am and 11:30am-1pm (registration required)
To comply with COVID-19 advice, it is important that you register for one of the allocated time slots prior to attending the information session, by filling out a registration form using the links above or by calling 1300 794 880.
If you would prefer to meet with the project team one on one, please call 1300 794 880.
COVID-19 Response
The Department will continue to tailor community engagement opportunities in line with the latest COVID-19 advice from health authorities.
Face-to-face engagement opportunities may be restricted and we will continue to be guided by the advice of health authorities, with the health and safety of our stakeholders always our highest priority.
Engagement with community and industry is crucial and we will facilitate information sessions as much as possible to enable face to face engagement. It is important to assist in managing these events that you register as requested to enable physical distancing as much as possible.
The project team will provide construction updates and work notifications via social media, letterbox drops, emails and the Project website. We are also available to speak via telephone (1300 103 456).
We encourage the community to register for email updates.
Contact Us
To find out more, provide feedback, register for an information session or for project updates, please:
Email: DIT.communityrelations@sa.gov.au
Phone: 1300 794 880