Identified Hazards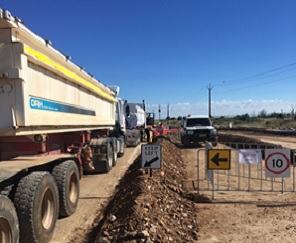 Example of good delineation
of heavy vehicles and light
vehicles (PDF, 981 KB)
Examples of common hazards onsite
Site conditions unsafe - e.g. No defined flagged off areas for supplies or pedestrians on some worksites.
Site workers not wearing compliant PPE / Unsafe behaviour.
Non-compliant electrical tools.
Plant not delineated from other equipment and pedestrians. Good Initiative: Blue cone area for 'swing zones' and effective delineation between heavy and light vehicles.
Ensuring trucks on site have been subject to a pre start inspection each day and operators are wearing seat belts.
Site entrance signage - e.g. incorrect information regarding correct PPE to worn on specific worksite.
Site storage / untidy site setup - e.g. some containers with stored equipment very untidy.
Safe Work Method Statements - e.g. SWMS not followed or generic (not site/task specific).
Traffic Management - e.g. unclear traffic management setups/non-compliant PPE worn. Cranes and Lifting equipment failing - e.g. Compliant chains and slings to be used. Pre-check of chains and slings to be conducted before use.