Transport Project Delivery - Safety in Construction

A Message from the Executive Director, Jon Whelan
The Department for Infrastructure and Transport (the Department) delivers valuable social infrastructure that improves the lives of South Australians every day. The Department is committed to ensuring all projects are delivered safely, with zero harm to workers and members of the public. Safety performance is a key deliverable and the ultimate non-negotiable for The Department.

A tragic fatality at the new Royal Adelaide Hospital site in February 2016 impelled The Department to intensify efforts to make all work sites under its control safer.

Workplace injury and death impose large costs on economies. These costs accrue to the individual workers who suffer, their families and to the employing companies.

By reducing injury rates companies can increase productivity in both overall equipment effectiveness and unscheduled downtime. Companies can drive profitability by investing in keeping their workers safe.

There is always more that can be done in the safety realm and together, The Department and industry can raise the safety performance bar higher.
This site provides a means to share 'Safety in Construction' approaches, information and learnings. It is an additional and complementary safety resource to the informative SafeWork SA website.
I encourage all of our construction partners to make every construction worksite in South Australia safer and more productive.

Together we can make a difference.
---
Concrete Pumping Fatality
Concrete pump operator fined $375,000 in relation to workplace fatality.
A Sydney concrete pumping company has been fined $375,000 by the NSW District Court while its director has been fined $10,000 after a worker sustained fatal head injuries when he was struck by an unsecured hose attached to concrete pumping equipment at a Fairfield building site.
Click here to read article.
You may consider using this tragic incident as part of your toolbox talks/safety scrums to reinforce the requirement of identifying critical risks and the validation of the effectiveness of selected risk control measures prior to the commencement of work.
---
Safety Alerts
---
The Department's Minimum Construction Safety Expectations
The Department's Minimum Construction Safety Expectations specify Worker Health & Safety requirements applicable for all Department construction worksites.
These requirements do not diminish or replace any responsibilities, duties, requirements under the WHS Act and Regulations 2012, South Australian Codes of Practice and Australian Standards, nor do they prevent organisations from implementing higher levels of safety practices. They provide clarity as to what the Department expects as a safety minimum on all construction sites.
Together, the Department's Minimum Construction Safety Expectations and the Department's Safety Culture Measures describe the operational and behavioural safety standards required of everyone working on Department construction sites. They do not prescribe 'how' to do your business, but clarify 'what' is expected onsite to make it safe for everyone.
View the Department's Minimum Construction Safety Expectations.
View Slideshow
---
Safety Culture Measures
The Department has introduced a guiding set of Safety Culture Measures to assist organisations ensure their safety systems are compliant with legislation, site-specific and translate into a positive safety culture on the ground.
The Outcome-Based Safety Culture Measures will form the basis for safety audits conducted on Department construction projects.
View Safety Culture Measures.
---
Safety Walks
Preferred UHF channels on a construction site
In addition to 'business as usual' safety inspections and safety audits, the Department undertakes Safety Walks on all of its infrastructure projects. Safety Walks focus on compliance with procedures, ensuring that identified hazards are made safe, that site employees are trained and that our contractors have functioning safety systems in place.
Safety Walks assist in the identification of:
improving safety practices
hazards and unsafe conditions on project sites
good practice initiatives and approaches and the opportunity to share them.
---
Identified Hazards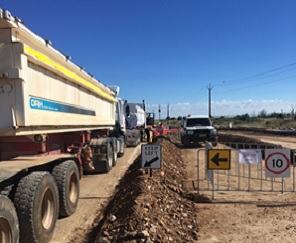 Example of good delineation of heavy vehicles and light vehicles
Site conditions unsafe - e.g. No defined flagged off areas for supplies or pedestrians on some worksites.
Site workers not wearing compliant PPE / Unsafe behaviour - e.g. Some workers not wearing PPE (gloves for example) on sites that show on their site signage is mandatory.
Non-compliant electrical tools - e.g. Tools on worksites not all electrically tested and tagged. Good Initiative: Testing station at entrance of worksite. Ensuring isolation/protection of electrical switchboards.
Plant/Equipment unsafe areas - e.g. Plant not delineated from other equipment and pedestrians. Good Initiative: Blue cone area for 'swing zones' and effective delineation between heavy and light vehicles. Ensuring trucks on site have been subject to a pre start inspection each day and operators are wearing seat belts.
Site entrance signage - e.g. Incorrect information regarding correct PPE to worn on specific worksite.
Site storage / untidy site setup - e.g. Some containers with stored equipment very untidy.
Safe Work Method Statements - e.g. SWMS not followed or generic (not site/task specific).
Traffic Management - e.g. Unclear traffic management setups/non compliant PPE worn. Good Initiative: Full reflective safety suits to be worn at night, alternative safety lights/devices to be used to replace workers in the direct traffic line.
Cranes and Lifting equipment failing - e.g. Compliant chains and slings to be used. Pre-check of chains and slings to be conducted before use.
Lack of attention on night works - e.g. ensuring lighting towers/ appropriate night PPE(reflective suits/change over sunglasses to clear glasses) has been set up before night falls.
Appropriate use of UHF radios - e.g. Good Initiative: Site's preferred UHF channels which are compliant.
Unsafe grinding/cutting tools - e.g. Poorly stored/maintained grinding or cutting disks which may also be poor quality imports.
---
Photos of Good and Bad Practice
Example of good practice - designated spotters on site
The following key learnings are taken from recent Safety Walks and identified hazards:
Gaps between documented systems and what is happening on the ground.
Traffic and pedestrian management – need a stronger focus.
'Generic' SWMS – risk assessments not site specific.
Obvious departures from safety requirements not called or immediately addressed.
Practices not consistent with relevant codes and standards.
Photos of good and bad practices
---
Contractor Contributions
---
The Department Safety Forum Charter
The Department together with industry leaders have committed to a Safety Charter to improve safety performance in the South Australian Construction Industry because the health and well-being of everyone is critical.

This charter will ensure that everyone in the South Australian Construction Industry can operate to a leading level of safety by sharing best practice safety management and leadership approaches.
See the Department's Safety Forum Charter
---
Safety Tools / Links
Emergency + App with GPS
The Australian Communications and Media Authority (ACMA) have recently released a 000 app, Emergency +. The app is free to download and uses the GPS functionality built into smart phones to help Triple Zero (000) callers provide critical location details required to mobilise emergency services.
This is an initiative of the Australian Government, State and Territory Emergency Services.
You can download the app from the app store on your mobile phone device or by following the link below:
http://emergencyapp.triplezero.gov.au/
Changes in Chain of Responsibility
On 1 October 2018, the Heavy Vehicle National Law was amended to provide that every party in the heavy vehicle transport supply
chain has a duty to ensure the safety of their transport activities.
For more information visit National Heavy Vehicular Regulator.
Mates in Construction
The Department is proud to be a Tier 1 partner with MATES in Construction (MIC) which is a not-for-profit organisation. MIC provides support through its program of suicide awareness and prevention, and other initiatives that support workers with mental health problems, to create a more resilient building and construction workforce.
The safety, health and well-being of employees are integral. Mental health is just as important as physical safety and MIC helps to improve the psychological well-being of employees.
Since mid-2016, the Department has collaborated with MIC to deliver training across the organisation and for contractors we use.
The Department is proud to support MIC and the training and assistance they deliver on the many infrastructure projects across SA, helping to make the construction industry a mentally healthier place to work and most importantly saving lives.
For more information visit http://matesinconstruction.org.au/SA/
Mobile Plant Safety Matrix
A Mobile Plant Safety Matrix has been developed by Gateway South and is shared as a good practice example.
SafeWork SA
Safe Work Australia
For information on recognising and treating the most common forms of heat-related illness see the
First aid fact sheet.

---
Site Contributions
Department for Infrastructure and Transport construction contractors can email contributions to this site: Mailbox