Stephen Terrace and Ninth Avenue Pedestrian/Cyclist Improvements
The Department for Infrastructure and Transport (the Department), in collaboration with the City of Norwood Payneham & St Peters, is proposing to improve safety for pedestrians and cyclists through the installation of bicycle and pedestrian crossing points on Stephen Terrace, St Peters.
The proposed project aligns with the Council's City-Wide Cycling Plan (December 2013) and links with the Council's Ninth Avenue streetscape improvements completed in 2018.
The project will provide safe crossing points for pedestrians and cyclists on Ninth Avenue to cross Stephen Terrace by the removal of the:
right turn for motor vehicles travelling from Stephen Terrace into Ninth Avenue from the west and east approaches;
right turn for motor vehicles travelling from Ninth Avenue into Stephen Terrace from the north and south approaches; and
ability for motor vehicles travelling on Ninth Avenue to cross the intersection. Only left turns in and left turns out will be permitted when exiting Ninth Avenue into Stephen Terrace.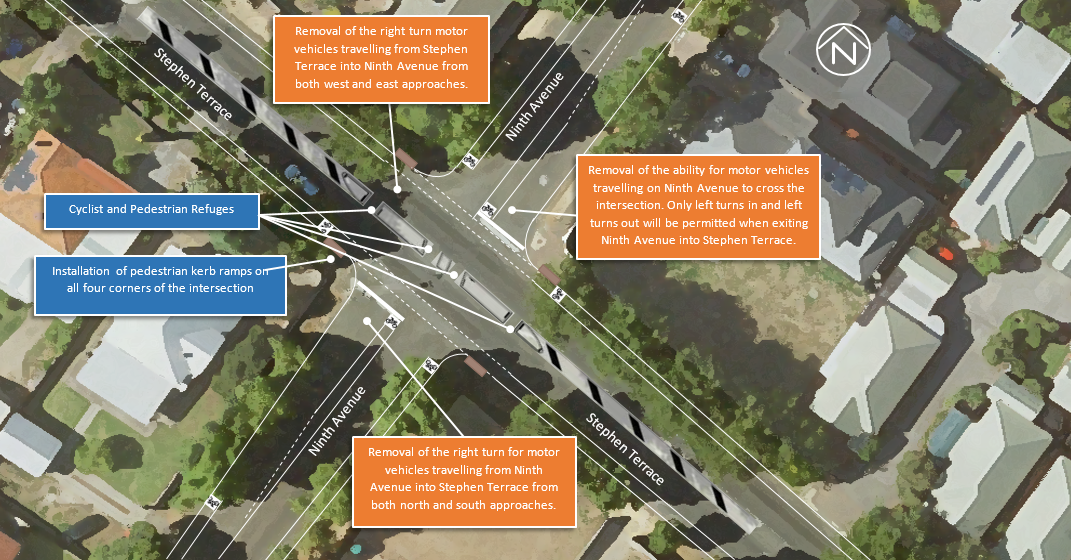 The Department is seeking feedback on this proposal until 5pm Sunday, 7 March 2021 via:
Telephone: 1300 794 880
Email: dit.communityrelations@sa.gov.au
Mail: mail to DIT, Reply Paid 1533, ADELAIDE SA 5001 (no stamp required).
Subject to the consultation, construction is scheduled to commence in the second quarter of 2021 and is anticipated to take two weeks, weather permitting.
This $200 000 project forms part of the State Government's $1.4 million Cycling and Pedestrian Safety - Improve Safety for Vulnerable Road Users Program.
COVID-19 Response
---
The Department will continue to tailor community engagement opportunities in line with the latest COVID-19 advice from health authorities.
Face-to-face engagement opportunities may be restricted and we will continue to be guided by the advice of health authorities, with the health and safety of our stakeholders always our highest priority.
Engagement with community and industry is crucial and we will facilitate information sessions as much as possible to enable face to face engagement. It is important to assist in managing these events that you register as requested to enable physical distancing as much as possible.
The project team will provide construction updates and work notifications via social media, letterbox drops, emails and the Project website. We are also available to speak via telephone (1300 103 456).
---
For more information please contact:
Email: DIT.communityrelations@sa.gov.au
Phone: 1300 794 880