Infrastructure Careers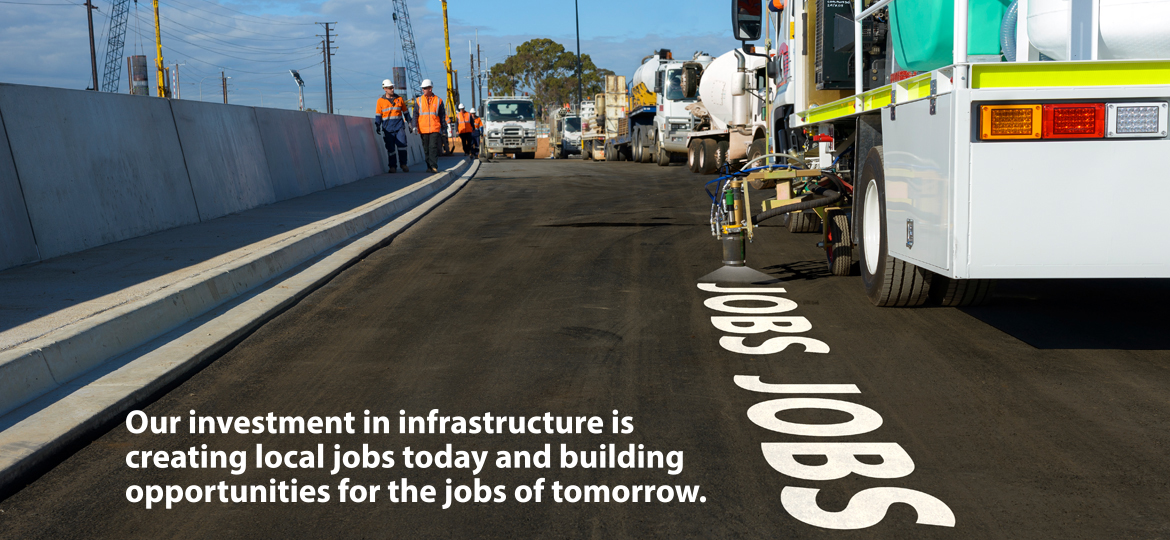 Jobs now—jobs of the future
The record $18.6 billion investment in infrastructure currently underway across South Australia will benefit current and future generations of South Australians.
As well as improving infrastructure, these projects are supporting thousands of jobs—now and into the future.
Find out more about these infrastructure projects.
Local job opportunities
This record investment in South Australian infrastructure is supporting our economy and jobs.
Check out the job opportunities associated with the below projects.
Torrens to Darlington (T2D)
Set to unlock Adelaide's traffic network, it is expected that from design to construction the Torrens to Darlington (T2D) project will create up to 4,500 new jobs including plant operators, concreters, pavers, welders, electricians, pipe fitters, mechanics, engineers and health and safety professionals to name a few, with the safety and wellbeing of the workforce being the top priority.
Visit the T2D website to keep informed about employment opportunities.
Career opportunities with the department
The Department for Infrastructure and Transport is one of South Australia's largest organisations with assets in excess of $13 billion, an annual operating budget exceeding $1.1 billion and a capital program of $670 million, with more than 2,500 employees.
The department offers opportunities for people at all stages of their career, from trainees, apprentices and graduates to senior management and executive roles, and is committed to job flexibility.
Career development opportunities through training, professional development, promotion, equal employment opportunities and safe work practices are a strong focus within the department.
If you are interested in vacancies within the department, please monitor I Work for SA's website where all roles available in the public sector are advertised. You can also register to receive alerts when roles in your area of interest become available.
Alternatively, please view career opportunities available within the department.