Plan ahead for road closures for VALO Adelaide 500
Thursday, 24 November 2022
Eastern suburbs commuters to the city are encouraged to plan their journey and consider alternative travel options as roads around the east parklands begin to be closed for the return of the world class VALO Adelaide 500.
Roads will be progressively closed from 6am tomorrow (Friday 25 November) ahead of the race event on 1-4 December.
Commuters should expect delays and allow more time for travel between tomorrow and when all roads re-open following the event.
Alternative travel options should also be considered, including public transport and, where practical, walking or cycling. Travelling outside of peak periods wherever possible is also encouraged.
Road closures:
From 6am, Friday 25 November the following roads will be closed to traffic:
Wakefield Road
East Terrace (Angas Street to Bartels)
Nil Street
Harvey Street
From 6am, Saturday 26 November the following roads will be closed to traffic:
Dequetteville Terrace (Rundle to Bartels and Bartels to Fullarton)
Bartels Road
Hutt Street (Bartels/Pirie to Wakefield)
East Terrace (Bartels to Grenfell)
Kent Town Road (closure at Dequetteville Tce)
Flinders Street (west of Hutt Street)
Tucker Street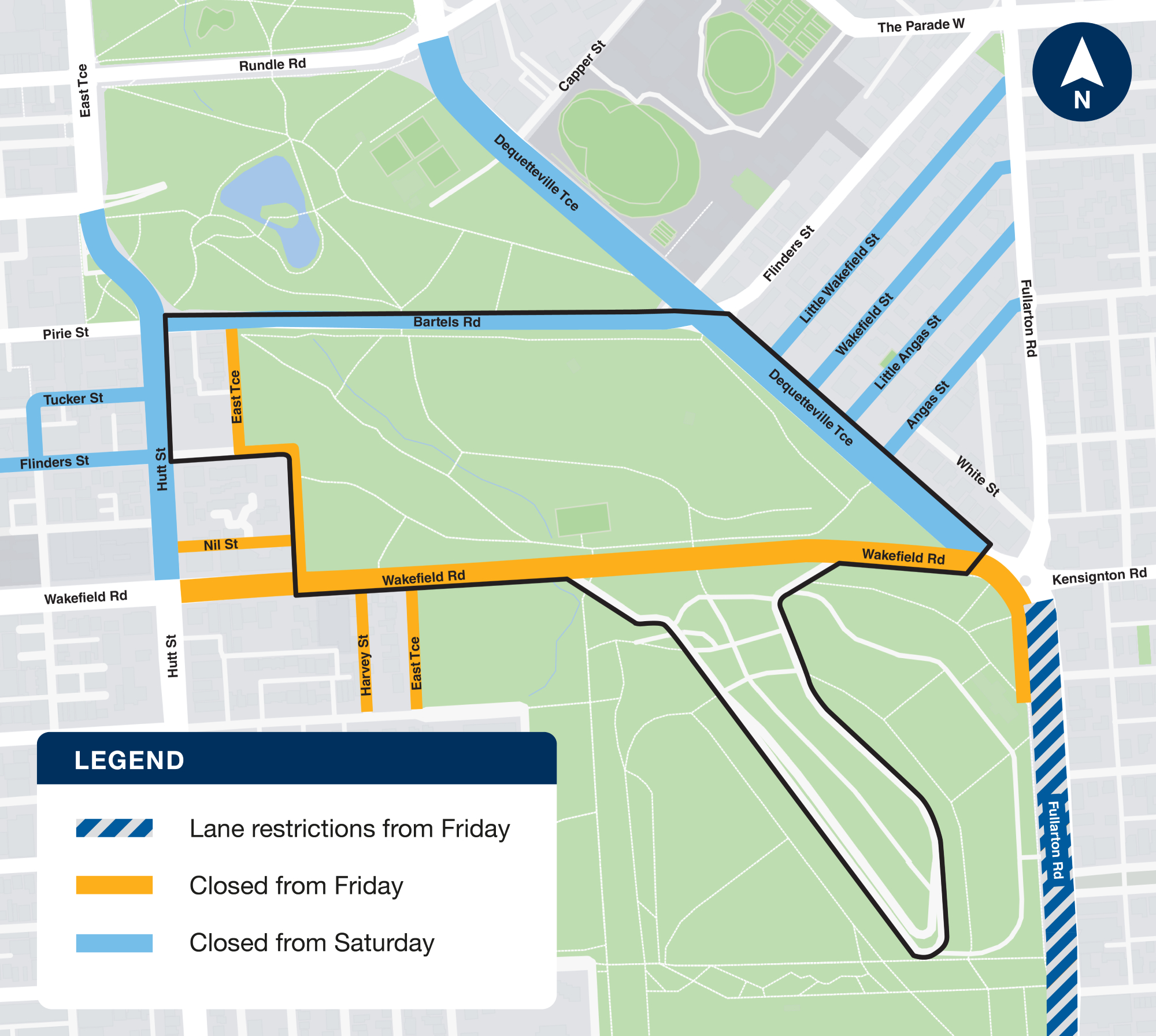 A contra-flow will also be in place along Fullarton Road. Some short-term road closures will occur between 2-4 December to accommodate after-race concerts.
Roads will be progressively re-opened from Tuesday 6 December, with all restrictions scheduled to be lifted by 6am on Thursday 8 December.
Ticket holders to the VALO Adelaide 500 are entitled to free travel on all Adelaide Metro bus, train and tram services throughout the four days of the event. For more information visit www.adelaidemetro.com.au.
For more information about road closures, visit https://adelaide500.com.au/event_info/community-information.