Annual Forward Work Plan released
7 September 2021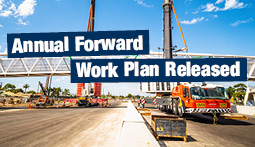 On 1 September 2021, almost 900 construction industry leaders came together—in person and online—to talk about the exciting pipeline of upcoming works and the many opportunities for us to continue working together to build what matters to South Australians.
Held at the Adelaide Oval and online via livestream, the Annual Construction Sector Industry Briefing event provided the industry with the latest information about upcoming opportunities, including project/works overviews, contract packages, delivery models, timeframes and requirements.
We are proud to be fostering partnerships and collaboration between the public and private sectors to help deliver infrastructure that will benefit South Australians for generations to come.
Visit the DIT Project Pipeline page to view the latest forward work plan for our state government's capital infrastructure program.